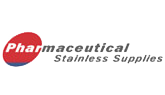 Pharmaceutical Stainless Supplies
Pharmaceutical Stainless Supplies is a leading provider of stainless steel products and services, to a wide range of industries, including Pharmaceutical, Healthcare, Biotech, and Medical Devices.
Founded in 1990 as Callaghan Industrial Stainless Ltd, the company has grown (both in size as well as in reputation), to become a global market leader in the manufacture and supply of high-quality steel products and innovative solutions.

Pharmaceutical Stainless Supplies is renowned for its exceptional customer service delivery and has a proven reputation when it comes to delivering bespoke stainless steel solutions, designed and manufactured to very specific customer requirements.
Key services:
Airlock & cleanroom furnisher design & manufacturer
Process pipework
Product contact dispensing equipment
Machine frame building
Material handling solutions
Surface treatment
Find out more: