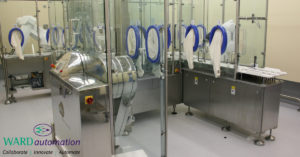 EU GMP Annex 1 is Coming – What to Expect
While EU GMP Annex 1 was expected to be published this spring, it is still scheduled to come out at some stage this year. It's important to know what to expect so you can take appropriate action.
EU GMP Annex 1 is the European Union's Good Manufacturing Practice guidelines for the Manufacture of Sterile Medicinal Products.
It primarily applies to manufacturers of sterile pharmaceutical products in the EU, but parts of the Annex also apply to other sectors, including companies involved in the manufacture of MedTech products in clean environments.
John Ward is the Managing Director of Ward Automation. Ward Automation is a leading manufacturer of automation solutions and assembly machines for the MedTech and pharmaceuticals sectors. Find out more by visiting the Ward Automation website today.
Are the Changes Significant?
The development of the new guidelines was a collaborative effort between the European Medicines Agency, the World Health Organization, and the Pharmaceutical Inspection Co-Operation Scheme.
All things considered; it is a significant update on the previous guidelines. For example, the annex is going from a 16-page document to a 50-page document.
That said, many of the individual practices outlined in the guidelines are already in operation in most EU pharmaceutical and medical device manufacturing facilities. The new EU GMP Annex 1 formalises them into one comprehensive guide in addition to introducing some new requirements.
What Are the Key Points?
The key points in EU GMP Annex 1 cover a range of areas:
Quality Systems
There is a requirement in the new guidelines for manufacturers of sterile products to move to a quality risk management approach. This includes a specific requirement to assess the risk of contamination and take steps to eliminate/mitigate that risk.
Contamination Control
Contamination is a central topic in the new annex. The guidelines require contamination control through quality risk management.
There is also a requirement for some additional controls to prevent cross-contamination. This includes recommendations to implement new technical solutions such as aseptic compounds, isolators, and restricted-access barrier systems (RABs).
Crucially, there is also a requirement in EU GMP Annex 1 to have a contamination control strategy, i.e. to create a document outlining this strategy. The strategy should include materials control, process validation, cleaning, disinfection, design of plant, design of processes, and more.
Of course, the above elements are not new to pharmaceutical and medical device manufacturers, but the requirement to collate everything into one document is new.
Aseptic Processing
Aseptic processing is another significant topic area in EU GMP Annex 1. One of the main points is the requirement to maintain Grade A continuity throughout all aseptic processes. This includes ensuring finishing processes, such as packing, do not create a risk of contamination.
There is also a requirement to document the maximum number of people allowed in clean areas with recommendations to introduce solutions that remove people from aseptic processes.
In addition, pass-through hatches for materials will need to have a filtered supply of air, manufacturing facilities must now continuously monitor Grade B areas similar to Grade A areas, and more.
Other Key Points
There are clarified guidelines on cleaning and disinfection in the new annex in addition to stricter staff qualification requirements. There will also be a need in the future for cleanrooms to have separate entry and exit areas.
Taking Steps Now
Technical, equipment, and machine solutions will be essential to both ensure compliance with EU GMP Annex 1 and to meet the needs of your business.
At Ward Automation, we have been developing solutions for clients for some time now that meet the standards set out in the new guidelines. Contact a member of our team today to discuss your requirements.