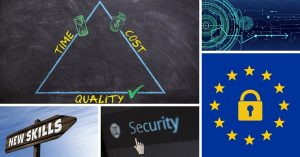 5 MedTech Industry Trends That Will Be Important in 2019
The healthcare sector is going through a significant period of innovation at the moment, with medical device technologies being one of the most important drivers. What are the key trends impacting the MedTech industry at the moment, however? Here are five to look out for in 2019.
1. Continued Drive for Improved Operational Efficiency
While new technologies and product innovations present opportunities for companies in the MedTech sector, those opportunities also attracted competition. Manufacturers must be forward-thinking and react promptly to remain relevant and competitive.
This is one of the reasons for the current trend of acquisitions, mergers, and large corporations going into partnership with smaller MedTech companies.
In addition, medical device manufacturers continue to invest in solutions that make the production process more productive and efficient. This includes implementing robotics and automation technologies.
Streamlining supply and distributions chains is also important, as is anything else that improves operational efficiency and, ultimately, profitability.
2. Regulations an Increasing Focus
While regulations have existed in the medical device industry for decades, they are becoming stricter. Some examples include:
Regulations from the FDA in the US that requires medical device manufacturers to have Unique Product Identifiers (UDIs) for every medical device
Europe's new Medical Device Regulation and In Vitro Diagnostics Regulation come into force between 2020 and 2022
Additional countries around the world are adopting regulations based on GS1 standards for unique product identifiers
Even regulations like GDPR, the EU's new data protection regulations introduced in 2018, have an impact on the medical device industry
All these changes in regulations require investment by MedTech companies to ensure they are compliant.
3. New Technologies Driving New Product Innovations
New technologies are creating the potential for new MedTech products that simply were not possible before. This includes:
3D printing
Internet of Things
Cloud technologies
AI
AR and VR
Robotics and cobots
And more
These technologies are making it possible for MedTech product developers to create more effective, more intelligent, and more accessible solutions for patients and consumers.
4. Skills Shortages Continue to Present Challenges
The growth of the MedTech industry presents significant opportunities for young people deciding on the career they want to pursue as well as for those already in employment who want to upskill/reskill.
That said, we need to do everything possible to get skilled people into MedTech to ensure there are resources available to help the industry reach its full potential.
5. Dealing with Security Challenges
Finally, the way data is used in healthcare is changing significantly due to digital transformation. In other words, not only are aspects of healthcare now digitised, entire companies are moving towards full digitalisation.
Previously, securing paper-based data required physical security solutions. Protecting data today, however, requires technical solutions, training, innovation, and constant improvement. This challenge will be ongoing in 2019 and long into the future.
Not Forgetting Brexit
Finally, from an Irish perspective, it's important to mention the impact that Brexit will have on the MedTech industry in 2019. Given the political uncertainties that exist, it's not clear how things will develop.
As with the other five points on this list, however, Brexit will have an impact on the industry in the year to come and probably beyond.
To stay up-to-date with insights and news from the Atlantic MedTech Cluster, please follow us on your preferred social media platform:
Email signup – http://eepurl.com/dF0Y_D
LinkedIn – https://www.linkedin.com/company/atlantic-medtech-cluster/
Twitter – https://twitter.com/AtlanticMedTech
Facebook – https://www.facebook.com/AtlanticMedTechCluster/