Atlantic MedTech Cluster Member Arrotek Shortlisted for Prestigious MedTech Rising Award
29 November, 2018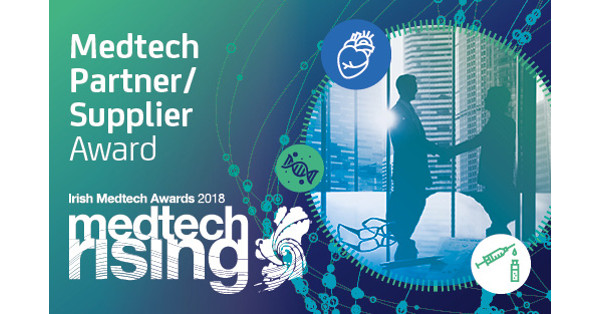 Atlantic MedTech Cluster member Arrotek has been named as a finalist for one of the most prestigious awards in Ireland's medical device sector.
The Sligo-based company has been shortlisted in the MedTech Partner/Supplier of the Year award at the 2018 MedTech Rising awards.
The MedTech Rising awards are organised by the Irish MedTech Association. Other organisations involved include the MedTech sector group at Ibec as well as Enterprise Ireland and IDA Ireland.
Mark Pugh, Director at Arrotek, said: "We believe our nomination is due to our proven track record of serving leading medical device companies in the world, bringing their visions and ideas to life.
"Since setting up in 2005, we have grown from being located in small premises in Strandhill with a handful of clients to a company with over 35 employees and between 30 and 40 clients at any one time."
The project which got Arrotek onto the shortlist for the MedTech Rising awards was for an innovative medical device which is still in development. It can improve survival rates during emergencies like cardiac arrest. It can also reduce the occurrence of other conditions which patients can suffer from as a result of a medical emergency – conditions like brain damage.
Arrotek was selected as the supplier of choice for this project because of its specialist knowledge and proven track record of designing, developing, and manufacturing catheters and catheter-based medical devices.
Mark said: "Nominations like this one from the Irish MedTech Association validates the standard of service we provide, and the expert work being carried out by our dedicated team."
Arrotek is one of three companies shortlisted for the MedTech Partner/Supplier of the Year award. The other two companies are Design Partners and Sanmina Ireland.
The awards ceremony will take place at a gala dinner on 6 December. It is the last day of the two-day MedTech Rising event in Cork.