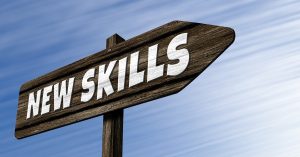 Moving Your Engineering Career Forward – Upskilling for the MedTech Industry
The MedTech industry in Ireland needs more people to work in it to ensure it continues growing. Attracting new people to the industry is also essential for Ireland to remain a global leader in medical device innovation and manufacturing.
The MedTech industry doesn't need just anyone, however. Instead, it needs people with the right skills. This presents an opportunity for all engineers looking to advance their careers. In other words, you can upskill to acquire the skills and knowledge needed by the MedTech industry to enhance your career prospects.
Identifying the specific skills you should acquire is not an exact science, though, as there is a wide range of companies and roles involved in Ireland's medical device industry. There are also new fields and disciplines emerging as new technologies develop, especially those that come under the Industry 4.0 umbrella.
So, what should you do if you want to upskill for a potential move into MedTech? Here are some tips.
Look at Irish MedTech Skillnet Courses
Skillnet Ireland is funded by the Department of Education and Skills via the National Training Fund. The Irish MedTech Skillnet is a branch of Skillnet Ireland. It was set up to provide training to help address skills gaps in the MedTech industry.
The training courses it has available range from level 5 to Masters. They are split into three broad categories: quality training, technical training, and management training. The topics include:
Certified Quality Technician
Cleanroom Operations
Fundamentals in Regulatory Affairs for MedTech Industry
Validation Principles and Practices for the Medical Technology Industry
Advanced Machine Upskilling
Manufacturing Operations for Life Sciences
Design for Medical Technologies
Driving Operational Excellence through Lean Leadership
Project Management Professional
Look at Springboard Degrees
The Irish MedTech Association Springboard offers degrees/courses to meet the skill requirements identified by companies in the MedTech industry. The courses it offers include:
Quality Engineering Programme
Certificate in Quality Engineering
Diploma in Professional Competence
Bachelors In Science in Quality and Regulatory Affairs
Research Job Descriptions
Companies across the MedTech sector regularly recruit new people, including companies in the Atlantic MedTech Cluster. These job advertisements are an excellent source of information that you can use to find out what employers are looking for right now.
You should look at both the essential criteria listed in current job ads as well as the desirable criteria. This will give you pointers on where you should focus your upskilling efforts.
Don't Ignore Soft Skills
While doing all the above, remember the importance of soft skills. Technical skills are essential and are often very specific to the MedTech industry, but employers are increasingly emphasizing the need for soft skills too.
This includes communication skills, critical thinking skills, creative thinking skills, organisational skills, presentation skills, teamwork skills, and more.
Experience Counts Too
Employers in the MedTech industry look for relevant experience as much as they do qualifications. This particularly applies if you already have a lot of the qualifications that employers look for – getting yet another may not help you get closer to your goal.
Getting experience, however, will improve your prospects. Therefore, pick up relevant experience wherever you can.
Taking the Next Step
By being proactive and focusing on what is actually required in the MedTech industry, you will be able to refine your engineering skills and abilities.
To stay up-to-date with insights and news from the Atlantic MedTech Cluster, please follow us on your preferred social media platform:
Email signup – http://eepurl.com/dF0Y_D
LinkedIn – https://www.linkedin.com/company/atlantic-medtech-cluster/
Twitter – https://twitter.com/AtlanticMedTech
Facebook – https://www.facebook.com/AtlanticMedTechCluster/